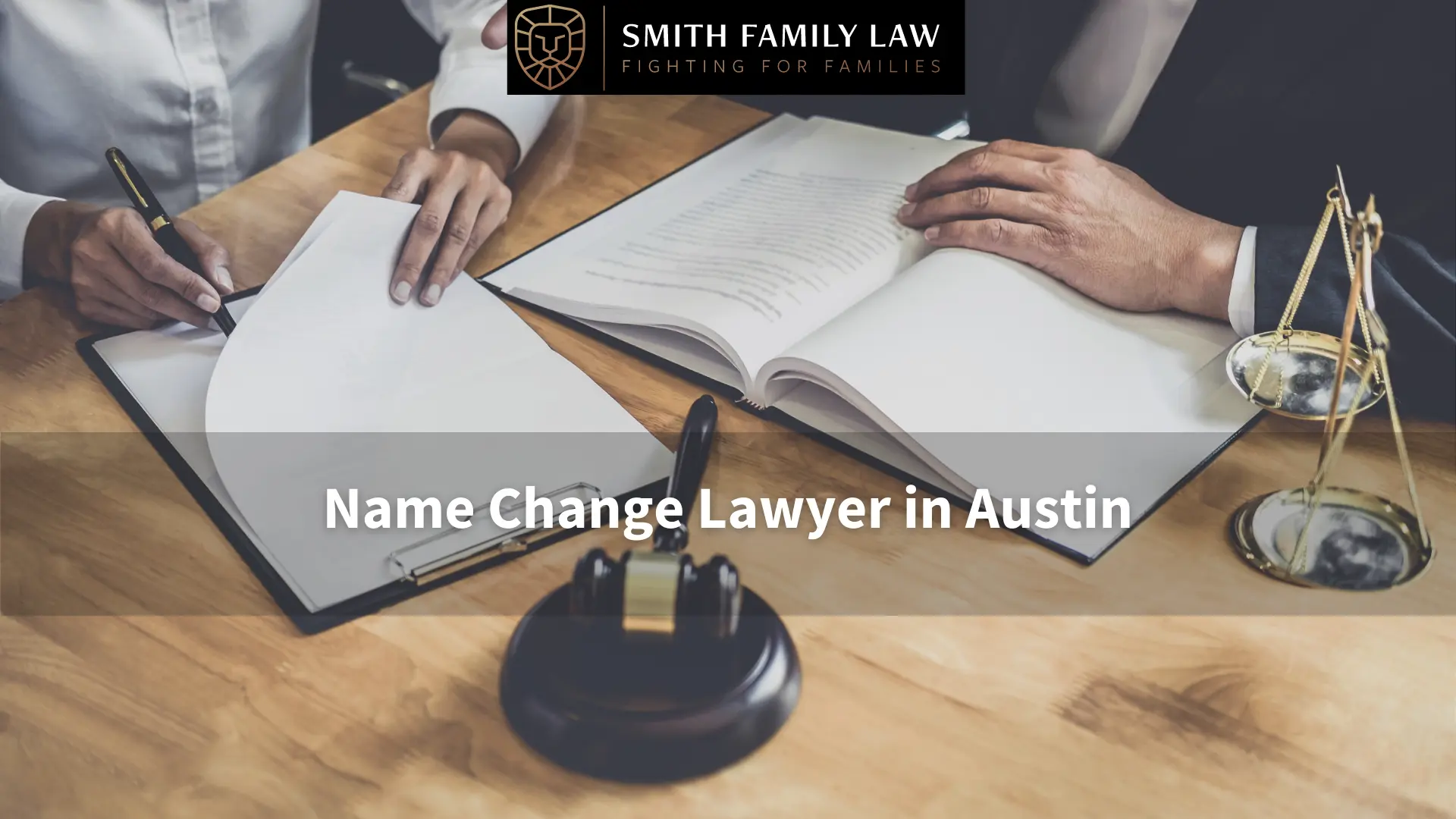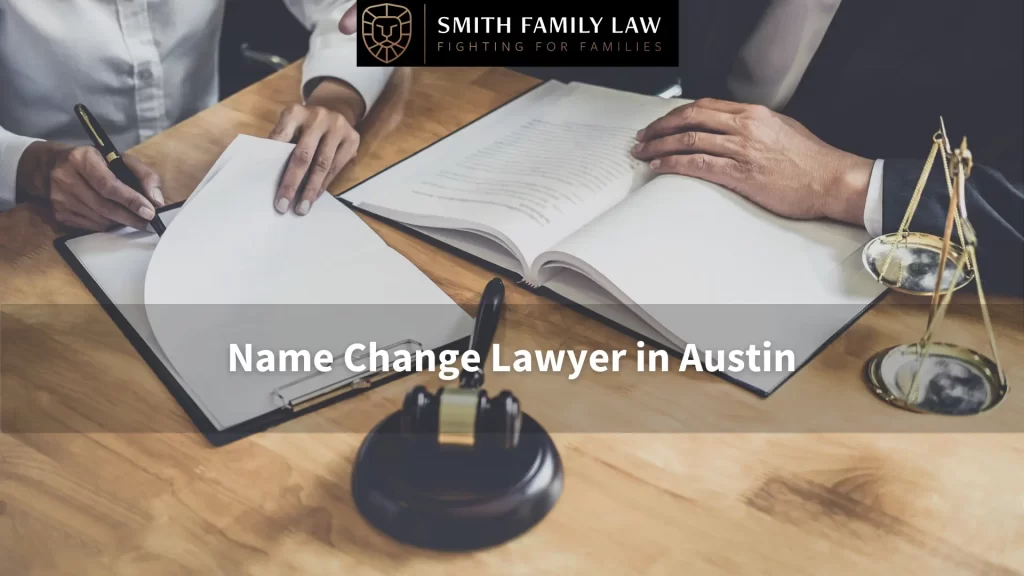 Changing your name can be a joyous yet stressful time. Not only are you changing your name, but you'll be handling the complexity of the legal process, including changing your name on all your identification and legal documents. At Smith Family Law, we understand how overwhelming it is to change your name regardless of the reason, and we aim to make the process as simple as possible. Using our experience, we can help you successfully change your name and get all your documentation updated.
To discuss how to change your name with one of our skillful name change lawyers in Austin, contact us today for a free and confidential consultation.
Reasons People Change Their Name
There are a variety of reasons why you may want to change your name or your child's name. For example, Texas Family Code sets out several situations where you can request a name change, including:
Marriage: Getting married is exciting and overwhelming on its own, and trying to figure out how to change your last name can make the stress even worse. Marriage is one of the most common reasons people change their name, whether adopting their spouses' last name or hyphenating. You can begin to use your new name as soon as you're married, but you must use your certified Marriage Certificate to change your name with Social Security, the DMV, your employer, and your financial institutions.
Divorce: If you are getting divorced and you want to cut ties with your married name, you can revert to a name you previously used. That could be your maiden name or a prior married name. You can request a name change during your divorce, and the court can grant it in your divorce decree. Following this, you can request a name change certificate to update your name on all pertinent documents.
Gender identity: At Smith Family Law, we understand that name changes during gender transitions can be vital and affirming. We can assist you in submitting a court petition to better align your name with your true identity.
Adoption: Adopting a child is a joyous occasion, and changing their surname to match yours can be one of the most exciting parts because it indicates to the world that this person is your child. It's important to note that you are not limited to changing your child's last name. Therefore, after finalizing the adoption, you can petition the court to change your child's first, middle, and last name.
General: In Texas, you can legally change your name simply because you want a new name. Therefore, if you want a fresh start with a new name, you can petition the court to change your name. There are some restrictions for people who have criminal records. Talk to your attorney to determine whether your criminal record could prohibit you from changing your name.
While you can generally change your name for any reason, there are some limitations. For example, Texas does not grant a name change if someone requests it for fraudulent reasons.
Documentation for Name Change Petitions
In Texas, supporting information for a name change varies based on whether it's for an adult or minor. For example, For example, when requesting a personal name change, include the necessary details or explain their absence:
Current full name (first, middle, and last)
Sex
Race
Birthdate
Driver's license number for any license you've had in the last ten years
Social Security number
Any reference number in a criminal system, such as the FBI, or a state criminal history
Any offense and case number for an offense above a Class C misdemeanor
When changing the name of a minor, the child's parent, conservator, or guardian must file a name change petition on the child's behalf. This petition must include the following information:
Child's full name and place of residence
Reason for the name change request
The requested full name
Whether the court has exclusive and continuing jurisdiction over the child
Whether the child is required to register as a sex offender
In addition to the above, if you request a name child for a child over ten, you must include an affidavit of their consent. This means that if a child over ten opposes a name change, the court might deny the petition.
Legal Process for Changing Your Name in Austin
The exact process for changing a name depends on the reason that the name change is occurring. However, for the most part, you will need to do the following:
Petition: File a name change petition in your county's court as a first step. This petition can come in various forms depending on why you are changing your name.
Criminal record report: Besides providing information concerning your name, you must disclose whether you have a criminal history. As a result, you should obtain your criminal record from the Texas Department of Public Safety to support your petition.
Name change hearing: In some cases, you must attend a name change hearing to present evidence to support your name change and obtain a court order allowing for such change. During this hearing, the judge may ask you questions about your reasons for changing your name and may ask for additional documentation to prove you have a valid reason that is not fraudulent.
Court order: Once the judge approves your name change, they will issue a court order authorizing it. Using the court order, you'll update identification documents like your driver's license, passport, and Social Security card. Be sure to keep track of this order because you could need it to prove you legally changed your name.
Tips for Changing Your Name
These tips make the lengthy name change process more manageable and less stressful.
Plan: Changing your name takes time and effort and involves a lot of legal documentation. Therefore, you should plan to give yourself plenty of time to complete the name change process before you need to start using your new name. For purposes like marriage, ensuring a new passport before your honeymoon requires timely name change completion.
Update your documentation: Once you've received your court order allowing for your name change, you will need to ensure everything gets updated so it's valid. This may include your driver's license, Social Security card, passport, power of attorney, or any other legal document that relies on your old name.
Notify relevant authorities: Once you've obtained the court order granting you the legal ability to change your name, you must notify various authorities and companies. This may include the Social Security Administration, the Texas Department of Public Safety, the Department of Homeland Security, your bank, insurance companies, medical offices, credit card companies, and any other relevant organizations that use your name and may ask for identification verification.
Keep detailed records: You should keep detailed records of your entire name change process, especially the court order authorizing the change. Keeping your order in a safe location is essential because you may need to provide evidence of your name change at some point, and failing to have the court order will make it substantially more difficult.
Seek legal counsel: You should seek legal representation during your name change process. At Smith Family Law an experienced name change attorney can file your petition, gather evidence, update documents, and notify relevant organizations. In addition, securing legal counsel for your name change ensures efficiency and that no steps are overlooked.
Follow these tips to quickly sort post-name change details and enjoy a fresh start.
How Much Does a Name Change Cost in Austin?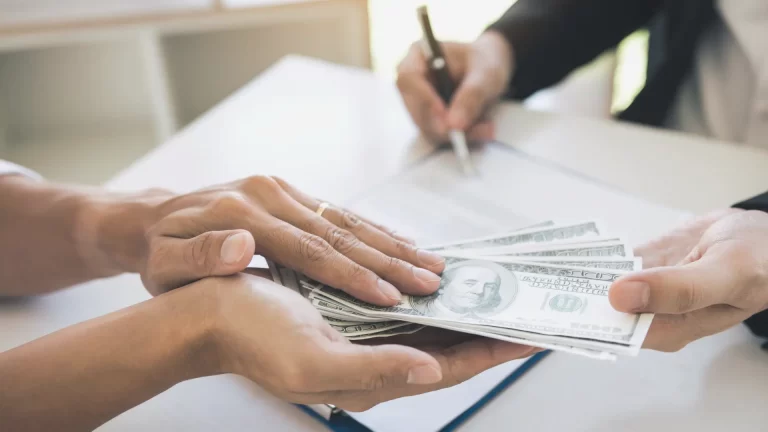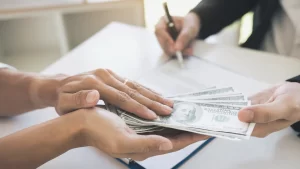 In Austin, the filing fee for a name change petition is $350.00. However, more costs depend on the number of documents you need to update. For example, you must pay $10.00 for each name change certificate you need. In addition, you will need to pay for your name change on your passport and driver's license.
Call the Name Change Attorneys of Smith Family Law, PLLC
Smith Family Law, PLLC's Austin attorneys simplify your name change process, having assisted many before. The legal process can be overwhelming, but we'll guide you on what to prioritize.
Our attorneys can simplify this process by helping determine which authorities you should notify and what documents you need to order with your new name. To discuss your case with one of our skilled and knowledgeable name change attorneys in Austin, contact us today for a free and confidential consultation. The sooner you contact us, the sooner you can start enjoying your new name.