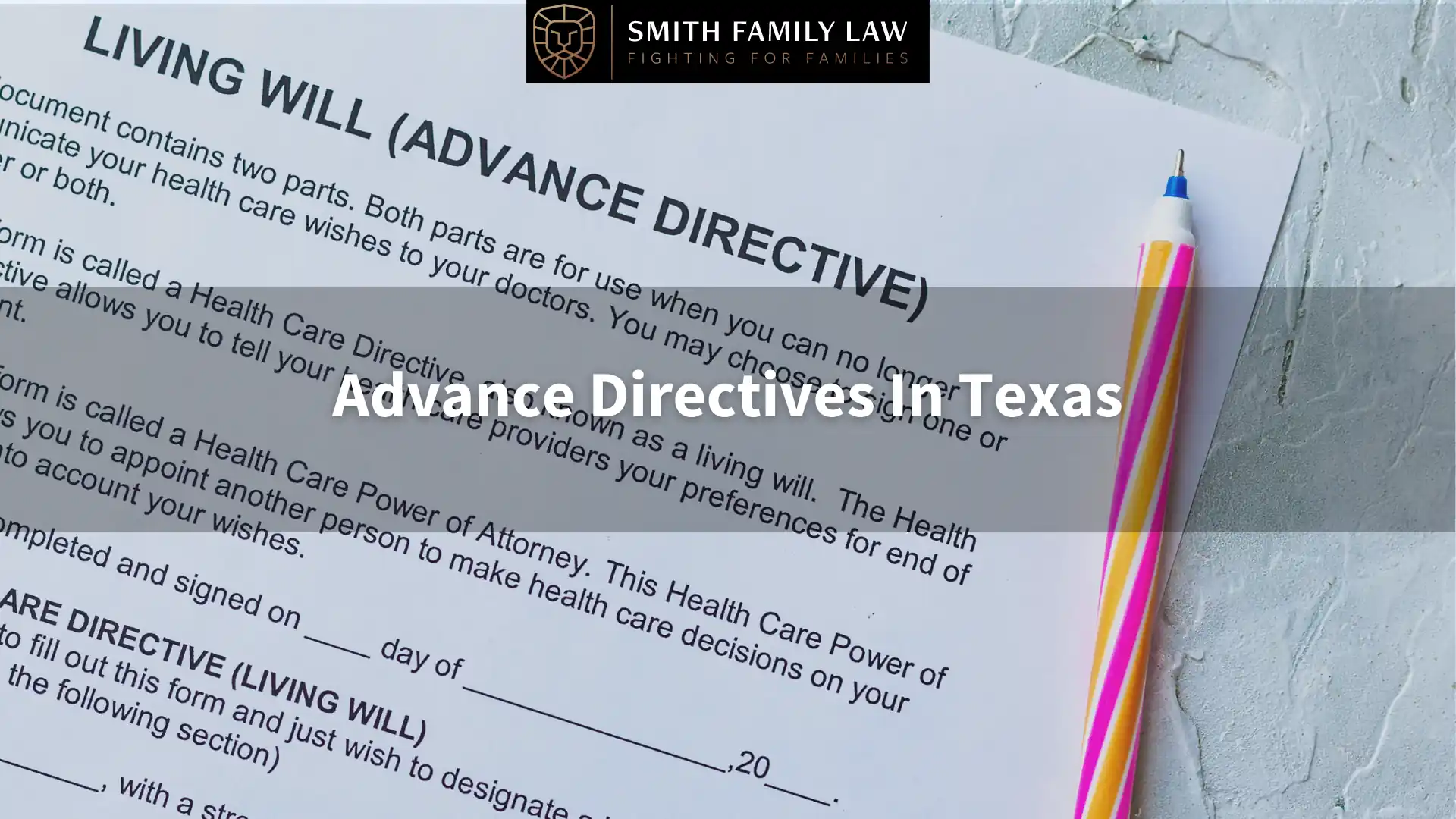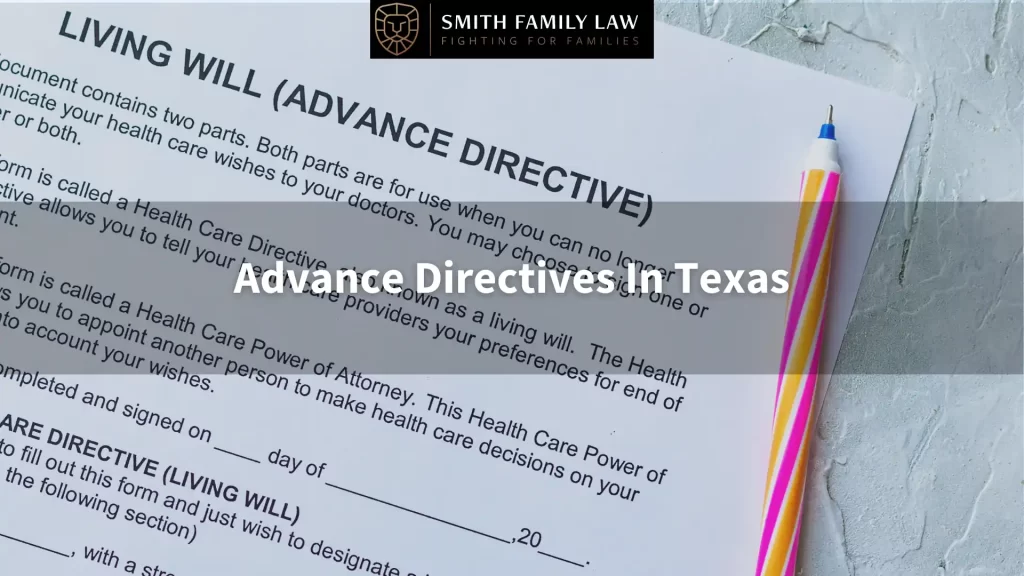 Imagine a time when you might be unable to communicate your wishes or make decisions regarding your own healthcare. It's not something any of us like to dwell on, but the truth is that life is unpredictable. The ability to make our own choices is a cherished freedom, and preserving that freedom in times of uncertainty is crucial. Estate planning is not just about distributing assets after you die. It's about safeguarding your autonomy and respecting your values and choices, even when you cannot voice them yourself. And this is where advance directives in Texas come into play.
Advance directives are legal documents that spell out your wishes and preferences regarding medical care and treatment. They are a testament to your values and protect your dignity when you might be unable to do so personally. Advance directives, like living wills and do-not-resuscitate orders can guide your healthcare team and loved ones toward decisions that align with your wishes when you can't express those wishes independently.
But the process of creating these critical documents is daunting and complex. The process often involves having tough family discussions and considering your true preferences for various uncomfortable scenarios. Amidst it all, it's important to remember that this is about you – your life and your choices.
At  Smith Family Law, we understand the gravity of the decisions that go into an advance directive document. Our compassionate and experienced team is here to guide you through preparing your advance directives in Texas to reflect your values and comply with Texas law.
Contact us now for a free case review, and let's secure your future together.
What Is an Advance Directive?
An advance directive is a legal document that outlines your healthcare decisions and preferences should you become unable to communicate or make decisions for yourself due to illness or incapacity. This document can direct care and guarantee understanding and respect for wishes when communication is hindered.
Types of Advance Directives in Texas
There are different types of advance directives, each serving a unique purpose and addressing different scenarios. Some common types of advance directives include:
Directives to Physicians and Family or Surrogates (Living Wills)
A directive to physicians and family or surrogates or living will is a legal document in which you specify the types of care you do or don't want if you can't communicate due to illness or incapacity. This can encompass decisions about things like life-sustaining treatment, ventilators, or feeding tubes in the event that you are terminally ill or in a persistent vegetative state.
With this type of directive, you can communicate your preferences about specific treatments such as dialysis, artificial nutrition, mechanical ventilation, or comfort care measures. Importantly, it allows you to assert your autonomy and protect your dignity when you cannot voice your desires.
Medical Powers of Attorney
A Medical Power of Attorney is a legal document that allows you to appoint a trusted person, known as an agent or proxy, to make medical decisions on your behalf if you are incapacitated. This person has the authority to consent, refuse consent, or withdraw consent for your medical treatment or make decisions about life-sustaining treatment on your behalf.
A designated agent would step in only if your attending physician certified that you are unable to make your own medical decisions. Choosing an agent who understands your values, and healthcare preferences, and whom you trust to carry out your wishes is important.
Out-of-Hospital Do-Not-Resuscitate (OOH-DNR) Orders
An out-of-hospital do-not-resuscitate order is a physician's order signed by a patient or their medical power of attorney. It instructs all personnel, including emergency medical staff, to forgo resuscitation attempts in the event of cardiac or respiratory arrest. This includes methods like chest compressions (CPR), artificial ventilation, defibrillation, and other advanced airway management techniques.
This order is effective everywhere except hospitals, covering homes, hospices, and long-term care facilities. It respects a patient's wish to die naturally without invasive intervention.
Declarations for Mental Health Treatment
A declaration for mental health treatment is a legal document that allows you to make decisions in advance about psychiatric care, mental health treatment, and related services you might need in the future. This directive only comes into effect when you are unable to make your own medical decisions.
In this declaration, you can state your preferences regarding psychoactive medications, convulsive therapies, and emergency mental health treatments. This means that even in crisis, your mental health care will align with your comfort levels and respect your autonomy.
Who Needs an Advance Directive?
Many people associate advance directives with end-of-life decisions for the elderly or seriously ill. However, these useful legal documents are for any adult who wants to ensure their healthcare wishes are honored, no matter what the future holds.
Accidents, sudden illnesses, and unexpected events can occur at any age and leave you unable to communicate your healthcare preferences. An advance directive equips loved ones and medical staff with crucial information, eliminating guesswork in tense situations.
Clarity and peace of mind from an advance directive benefit young adults, middle-aged individuals, and seniors. If you have specific wishes about treatments you would or wouldn't want, or if you want to designate someone to make medical decisions for you, it's a good time to consider an advance directive.
How to Create an Advance Directive in Texas
Creating an advance directive in Texas is a significant step in formally documenting your healthcare wishes, and seeking legal guidance is the best way to ensure your plan is thorough and legally sound. Here's the general process you can expect when you create your advance directive with the assistance of a knowledgeable estate planning attorney:
Consulting an estate planning attorney – First, you'll schedule a consultation with an experienced estate planning firm, such as Smith Family Law, that handles advance directives. They can lead you in crafting an advance directive, clarifying legal consequences, and aiding informed choices.
Discussing your healthcare preferences – To begin creating your advance directives, you'll communicate your healthcare preferences and values to your attorney. They can help you understand your options and choose the appropriate advance directives for your situation.
Selecting a healthcare agent – With the guidance of your attorney, you should choose a trusted individual to serve as your healthcare agent. They will make medical decisions on your behalf if you become incapacitated, so consider your choice carefully.
Preparing legal paperwork – Next, your attorney can prepare the necessary legal documents, ensuring they comply with Texas laws and accurately reflect your wishes.
Reviewing and executing the documents – Once the drafts are complete, your attorney can review the documents with you, addressing any questions or concerns you have. Once you're satisfied, you and your attorney can execute the documents according to Texas law, which might include witnesses or notarization.
Securing and distributing the directive – Finally, your attorney can safeguard originals and give you copies for safekeeping. They might also advise you to send copies to other parties, such as your healthcare providers or designated healthcare agent.
Documents and Information You Might Need to Create an Advance Directive
Here are some key documents and pieces of information you might want to take with you when you meet with your attorney to create an advance directive:
Current identification documents (driver's license, passport, social security card, etc.)
Medical records and health insurance information
A list of current medications and known allergies
Contact information for your primary care physician and other providers
Contact information for immediate family members
Legal documents (wills, trusts, etc.)
Your current living will or health care proxy if you have either
Contact information for your preferred healthcare proxy
Information on any long-term care policies
Financial documents (for a comprehensive understanding of assets)
Information about any current life-sustaining treatments
A list of your personal values and wishes about end-of-life care
Funeral or burial wishes, including any prepaid plans
How Smith Family Law Can Help with Your Advance Directive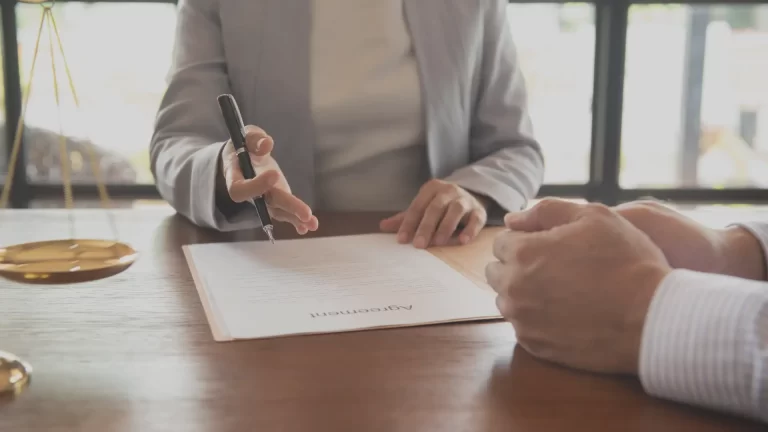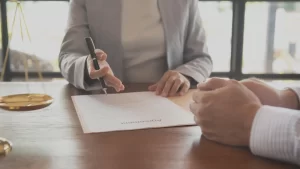 At Smith Family Law, we are committed to fighting for Texas families like yours. Led by award-winning attorney Christian Smith, our firm provides personalized and effective representation in family law and estate planning matters. Recognizing the emotional and financial strain of estate planning, we manage legal aspects, allowing you to focus on your family.
With extensive knowledge of Texas law, we tackle tough cases, managing complexities adeptly. Open communication is prioritized by our team, maintaining strong client connections throughout the legal process. We tailor our services to meet your individual goals and provide unwavering support.
Contact an Estate Planning Lawyer in Texas Today
When you choose Smith Family Law, you gain a dedicated team that has your family's back. We handle the legal aspects of your advance directive, so you can focus on your family's needs and well-being.
Request a free thirty-minute consultation today to discuss your estate planning needs with our attentive team. Let us put our resources and experience at your disposal and help you protect what matters most.